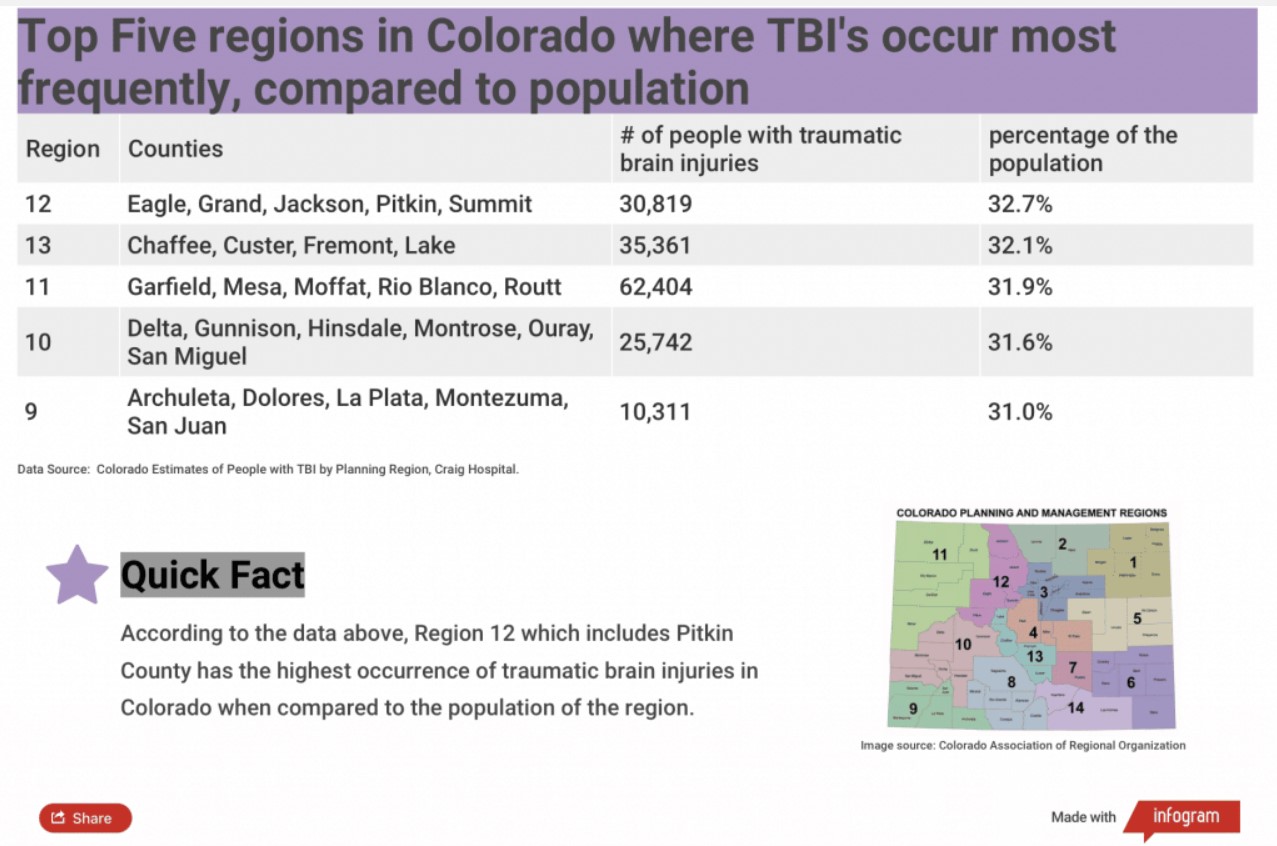 The number of people living with TBIs in the United States nearly equals the entire population of Colorado. According to Aspen Valley Hospital, an estimated 5.3 million adults and children living in the United States are suffering from permanent brain injuries. The U.S. Census from 2021 estimates the population of Colorado at 5.8 million.
Each year, Aspen Valley Hospital sees an estimated 2,000 people who come in with concerns of brain injuries. Concussion is the most frequent diagnosis for those patients, but even a mild concussion can lead to lasting impacts.
Austin Colbert, the sports editor and lead photographer for The Aspen Times, endured a mild concussion a handful of years ago and still has lingering symptoms.
"I had a very light, insignificant knock on the head, and I'm still dealing with symptoms five years later." Colbert said. "It impacts your life."
Dr. John Hughes, who owns Aspen Integrative Medicine, described a TBI as "a bomb that explodes in the brain." This "bomb" often goes undetected on CT or MRI scans, which makes the treatment for TBI all the more challenging.
The most common events that lead to TBIs are falls, car collisions, combative injuries or sports-related injuries. People living in rural or mountainous regions are more likely to experience a TBI than those who live in urban or eastern regions.
With this, Colorado ranks ninth in the country for TBI-related fatalities and 13th for TBI-related hospitalizations, according to Brain Injury Alliance of Colorado.
A study from Craig Hospital estimates that Region 12 of Colorado, which consists of Pitkin, Eagle, Summit, Jackson and Grand counties, ranks No. 1 for TBIs when adjusted for the population.
Read the full article at https://www.postindependent.com/news/the-longevity-project-traumatic-brain-injuries-in-the-high-country/